Buy Replacement Car Parts at Sunroad Collision Center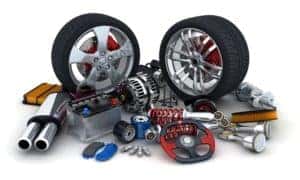 When it comes to replacement car parts that will have your vehicle driving like new, come down to Sunroad Collision Center in San Diego. Here at our collision center, we do what it takes to get your vehicle back on the road after damage or an accident, and that means providing you with the best car parts for the job every time.
OEM Parts at a Glance
OEM parts, or original equipment manufacturer parts, are one of the options you'll find for replacement auto parts here at Sunroad Collision Center. They're built on the same machines that originally produced your vehicle, which means you know they'll be a perfect fit every time.
And that's not the only benefit of using OEM parts for your repairs. They're also high-quality and designed to last, which can help to save you time and money on repairs and replacements down the line.
OEM parts are often protected by warranties and guarantees, so you'll have peace of mind every time you hit the road.
Where Can I Find Replacement Auto Parts?
Here at Sunroad Collision Center, we make it easy to find the replacement parts you need to get your vehicle running right again. In fact, you can begin ordering the parts and accessories you need right from the comfort of home.
Begin by navigating over to our Order Parts page of the drop-down menu. There, you'll be prompted to input your contact information and information on your vehicle, like year, make, and model.
Once that's complete, simply list the replacement parts you need and indicate whether you'll need installation included.
For more information on purchasing parts and to schedule installation and service, come down to Sunroad Collision Center. Make us your first stop for long-lasting repairs and replacements in San Diego.