Car Battery Service at Sunroad Collision Center in San Diego
If you're searching for dependable auto body repairs shops in San Diego, CA, visit Sunroad Collision Center. We're dedicated to helping our customers with everything from dent repair in San Diego and minor cosmetic paint repair to more serious repairs to components like wheels and windshields. We can also assist with battery service as a result of a collision or extended wear.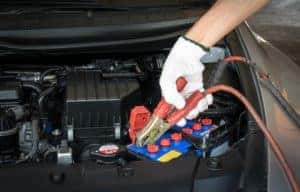 Causes of Battery Wear
Car batteries are just like all other parts of your vehicle: they wear out over time and with use. This component plays a huge role in the way your whole vehicle functions, which is why it's important to maintain it responsibly. After all, the battery helps supply power to a vehicle's motor to allow you to operate it and controls your lights and other mechanical systems. Without a functioning battery, you don't have a functional vehicle.
Every battery has an expiration date, but with proper maintenance, you can see it through to that date. In addition to age, the weather is a huge stressor on your vehicle's battery. Both extreme cold and heat can impact a battery's capacity to hold a charge. That's why it's wise to have your battery checked during seasonal shifts, usually in the spring and fall, to make sure there aren't any major issues. If there's any buildup or a battery looks like it's ready to retire, you can take action to purchase a replacement and avoid any unwanted interruptions.
Reasons to Service at Sunroad Collision Center
At our collision center in San Diego, our team is trained in all aspects of automotive repairs on Chrysler, Dodge, Jeep®, RAM, Honda, Toyota, Ford, and Kia models. Maybe your battery is impacted after an unforeseen collision or you're left stranded because of a dead and worn-out battery. Whatever the cause, you can count on our team to get you and your vehicle back on the road as fast as possible. Regardless of the make and model of your vehicle, you can trust our technicians to use genuine parts that are suited to your particular model. Whether you entrust us with your battery, tires, or with a complete body repair and reassembly, we have you covered.
When you need to schedule a repair appointment at our San Diego auto body shop, we welcome you to reach out to us online with your request. We look forward to working with you.