Collision Centers vs. Service Centers in San Diego
Are you uncertain about whether there are difference between collision centers versus service centers in California? There are some defining characteristics that separate these types of facilities. Sunroad Collision Center, your area San Diego auto body shop, is happy to help you understand what each provides and how we can assist you with your body repair and post-collision needs.
What is a Service Center?
When you visit your local automotive dealership service center, you can count on a few things. First, the technicians are certified and trained to care for your vehicle based on manufacturer best practices. A service center team is specialized in the specific service techniques that are relevant to your vehicle. That means everything from routine oil changes to more serious part repairs.
You can rely on a service center for the kind of regular maintenance services your vehicle's manufacturer recommends. These intervals will vary depending on your particular model and the age of your vehicle. You can find general guidelines in your owner's manual, but a service center team can also provide specifics about the best service schedule for your vehicle.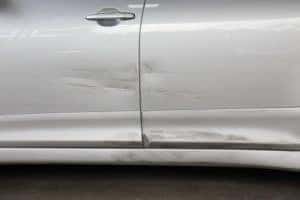 Our Collision Center
While service centers provide general automotive services like tire rotations, battery checks, and parts replacements as necessary, collision centers offer even more specific services. If you're looking for dent repair in San Diego, our Honda auto body shop near Lemon Grove, CA is the place to visit.
Collision centers like ours differ from service centers in the types of repairs we provide. While service centers are more focused on internal checks and repairs— from brakes to filters to hoses and belts — collision centers address external issues. If you've ever been in a road accident or experienced damage to your vehicle's paint job due to hail or a stray tree limb, our collision center in San Diego has you covered.
We offer our customers everything from paintless dent removal to take care of those unwanted blemishes that can sometimes happen over the course of daily driving to leather and interior repair of tears, cuts, and general upholstery wear. Other services you can entrust our collision experts with include windshield replacement and headlight restoration.
Service centers and collision centers provide unique services to drivers. If you find yourself in need of minor external cosmetic touchups or considerable post-collision repairs, our team can handle it all.