Find Essential Auto Parts at Sunroad Collision Center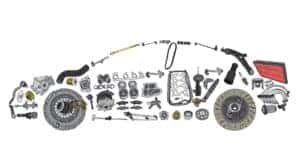 The next time you ask, "where can I find auto parts near me?" visit Sunroad Collision Center. We're the automotive experts you can rely on for high-quality parts and repairs, and we'll make sure you're protected out on the open road with emergency service support and information.
What Auto Parts Should I Keep on Hand?
The more prepared you are for vehicle damage or wear, the easier it will be to get your car back on the road and your ride back on track. And the right parts can make all the difference. Here are some essential car parts you want to have on hand.
Windshield Wipers: When it comes to vehicle safety, visibility is key. Over time, especially in inclement weather, your windshield wipers can wear down and make it difficult to see. Keep a spare set in your vehicle, just in case.
Radiator Cap: If you experience vehicle overheating, you may also lose track of your radiator cap. When the vehicle overheats, the pressure can cause the cap to blow off. Keep a spare radiator cap on hand, so you don't have to go searching.
Jumper Cables: Jumper cables can get your vehicle back up and running in a flash. If your battery is low or drained, you can use your jumper cables to get the car started again, before coming down to Sunroad Collision Center for battery service.
Spare Tire: There are many reasons you'll want to have a spare tire in your vehicle, like slow leaks and flats. The important thing is to maintain your spare properly, so it's in good shape if the time ever comes.
Find high-quality and reliable car parts at Sunroad Collision Center in San Diego. Order the essentials right here on our website today.