Get Body Work in San Diego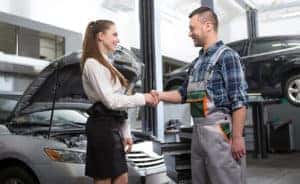 If you're looking for car body work repairs, Sunroad Collision Center is here to help. Our expert team is dedicated to making your vehicle as safe and reliable as the day you first bought it, and there are a few common tasks that we can recommend from the start. Visit our San Diego Collision center to get started.
Five Common Body Work Tasks
You'll want to turn to Sunroad Collision center if your vehicle has suffered damage from inclement weather or a collision. Here are the most common body work tasks we offer.
Paint Repair: There are many reasons you may need to bring your vehicle in for paint repair. It can improve the vehicle's appearance and value without breaking the bank.
Body Repair: Body repair is any non-structural adjustment or replacement. That might mean dent repair, part replacement, or an adjustment for damaged body panels.
Window and Windshield Replacement or Repair: Driving with a broken window or damaged windshield can be very dangerous. We help you make the necessary fixes so you can go back to driving with peace of mind.
Frame Testing: Cars may look reliable after an accident but many have frame damage below. We'll perform frame testing to determine if your vehicle's frame needs straightening.
Frame Straightening: If we determine that your frame has suffered damage, our expert team will work to strengthen your frame and ensure your vehicle is safe for the road.
Why Visit Sunroad Collision Center for Car Body Work?
There are many reasons you'll want to make Sunroad Collision Center the collision center you turn to when you need body work or repair support. To start, we make it easy to schedule your appointment online, offer shuttle and local drop-off service, and provide specials and deals on auto repair. Schedule an appointment in San Diego today.