Get Collision Repair in San Diego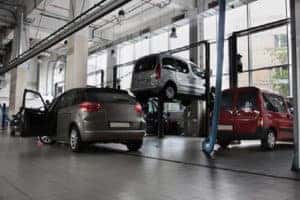 After an accident, it's essential to get collision repair you can trust, and Sunroad Collision is here to help. When you come down to our San Diego dealership, you'll have access to the parts, upgrades, and services that will make it easy to head out on the open road with peace of mind. Here's what you'll want to know about collision repair after an accident.
Do I Need Collision Repair?
It's a good idea to bring your vehicle in for inspection after an accident, just to be sure it's safe and reliable to drive. Here are a few signs it's time to find collision repair support like Sunroad Collision Center.
Your Engine Is Leaking: If there are noticeable leaks from under the hood, it's essential to get an inspection right away to ensure there's no further damage. A vehicle with a leaking engine is usually unsafe to drive.
Your Steering is Unstable: You may notice that your steering is not as responsive after an accident. That may indicate suspension damage and should be looked at right away.
You Can See Damage: If you see parts out of place after an accident, it's essential to have your vehicle towed to Sunroad Collision Center right away. Look for any cracks, breaks, or bends, or anything dangling from your undercarriage.
Why Get Collision Repair at Sunroad Collision Center?
There are many reasons to make Sunroad Collision Center the collision repair center you turn to after an accident. We provide a wide range of services and parts, make it easy to order new parts and accessories, and provide warranties for peace of mind after all of our repairs.
Don't forget to check out auto body repair specials at our dealership, as well. Trust Sunroad Collision Center for collision repair today.