Get Vehicle Dent Repair in San Diego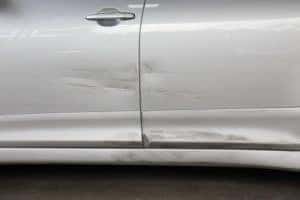 Dent repair is one of the services we're proud to offer at Sunroad Collision Center in San Diego. Whether your vehicle has been in an accident or experienced damaged due to extreme weather, our expert team is dedicated to getting your vehicle running smoothly and safely again, all at the right price to fit your budget.
Dent Repair FAQ
There are many reasons you might need to bring your vehicle into our service center for dent repair. Here are a few answers to common questions about the dent repair process.
Why Do I Need Dent Repair? Dents can to everyone. They can result from accidents, lost shopping carts, extreme weather, or just bad luck. You'll want to get your vehicle's dents repaired early on to improve vehicle efficiency and help you to maintain vehicle value.
Will My Dents Completely Disappear? This really depends on the size of the dents, but most small and medium-sized dents can be taken out completely, making your car look as good as new.
Can I Have Any Dent Removed? Here at Sunroad Collision Center, we'll do whatever it takes to get your vehicle running right again. Unfortunately, some dents can actually be a sign of damage below the surface. Our expert team will inspect your vehicle to ensure that it's safe to drive.
Why Get Dent Repair at Sunroad Collision Center?
Dent repair isn't the only service available here at Sunroad Collision Center. Here are a few of the reasons you'll want to make us the collision center you visit for upgrades and repairs:
Easy online scheduling
Free shuttle and local drop-off
Latest in repair technology
Service specials and deals
Schedule an appointment with Sunroad Collision Center to get your vehicle's dents removed with ease today.