Get Wheel Repair in San Diego at Sunroad Collision Center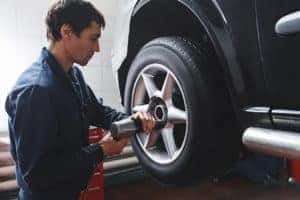 For wheel repair in San Diego, look no further than Sunroad Collision Center. We're here to help prevent damage and fix it when it occurs, and taking care of your wheels and tires is one of the most important things you can do to help keep your vehicle running right.
Common Tire and Wheel Maintenance Tasks
Keeping your wheels and tires in proper order is essential. It will help to ensure your vehicle is safe and responsive on the road and will reduce the need for more costly repairs and upgrades. Here are a few common tire and wheel services we perform here at Sunroad Collision Center to make sure you have peace of mind on every ride.
To start, we check your tire pressure and fill your tires up if needed. Low-pressure tires can be dangerous to drive on and can reduce fuel efficiency. We'll also rotate your tires to ensure that they're wearing down evenly.
We inspect tire tread for signs of uneven wear, which can indicate an alignment issue or problem with one of the wheels. Regular inspections will help to prevent future issues down the line.
Why Visit Sunroad Collision Center for Tire and Wheel Services?
Sunroad Collision Center has an expert team, OEM parts, and advanced equipment that you can trust to keep your tires and wheels operating smoothly. We also offer specials and deals on parts and services, because getting the care your vehicle needs shouldn't have to break the bank.
Our collision center also works closely with insurance partners, so you don't have to worry about getting your vehicle back out on the road.
For collision repair, maintenance, service, parts, and a whole lot more, make Sunroad Collision Center the collision center you visit first. Schedule your next wheel and tire service appointment today.