How Our Auto Body Shop Can Improve Your Gas Mileage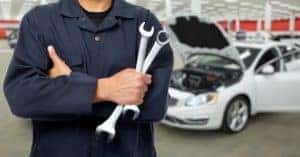 Are you on the search for an auto body shop that can do it all? Sunroad Collision Center is here to help. We can actually improve your vehicle's fuel efficiency, saving you money on every ride. It all starts at our San Diego dealership.
Auto Body Tasks for Improving Fuel Efficiency
Auto body tasks and services typically help to repair a vehicle or replace parts and systems after damage, but that's not all your auto body team can do. Here are a few of the services we offer that can help to improve your vehicle's fuel efficiency.
Dent Repair
Auto body shops are perhaps best known for dent repair—which can be really useful when it comes to improving fuel efficiency. Vehicles are designed to be aerodynamic.
Dents and damage can reduce the flow of air over the vehicle, cause drag, and even slow the car down. This contributes to an increase in fuel use, which can be addressed with dent repair at our dealership.
Frame Damage Repairs
Frame damage can affect your vehicle's safety and reliability in many ways. That's why our team always inspects below the surface when a vehicle has been in an accident.
Like dents, frame damage can impact the aerodynamics of the vehicle and reduce fuel efficiency, just one more reason to get repairs.
Tire Service
One of the quickest ways to improve vehicle efficiency is through tire service. We make sure your tires have safe tread depth, are rotated regularly and are properly inflated. A little tire service can make a big difference when it comes to gas mileage.
Schedule repairs and upgrades you can trust at Sunroad Collision Center in San Diego and save big on the next ride.