How to Save Money with Collision Repair Services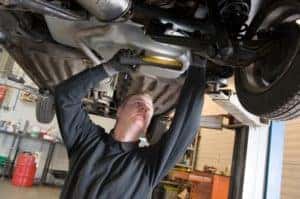 The collision repair available here at Sunroad Collision Center is important for many reasons. It can help to ensure your vehicle is safe to drive after damage or an accident and can improve fuel efficiency and mileage on every ride. The right collision repair can even save you money—and Sunroad Collision Center is here to help every step of the way.
How Can Collision Repair Save Me Money?
Repairs can be expensive, but they might just be able to save you money, as well. Here are a few of the long and short-term savings you can expect from collision repairs.
Reduce Replacements: When your vehicle is damaged, there's a chance other parts will wear down more quickly or need to be replaced more often. With collision repair, you'll reduce the need for costly repairs and replacements in the future.
Improved Vehicle Efficiency: Vehicles that have suffered body damage, like dents, may not be as efficient or aerodynamic on the open road. Collision repairs can boost fuel efficiency and save you money at the pump.
No Need for a New Car: After an accident, you may feel like it's time to replace your vehicle completely. Here at Sunroad Collision Center, we work closely with insurance companies to ensure you have access to the resources you need to stay behind the wheel. Our collision repair services will help you avoid extra costs for a new vehicle.
These are just a few of the benefits of the collision repair service available here at Sunroad Collision Center. Get your vehicle up to scratch and drive smoothly and safely with the support of our San Diego team.