Paintless Dent Repair Service at Sunroad Collision Center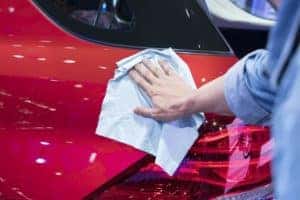 When it comes to paintless dent repair you can rely on, turn to the team at Sunroad Collision Center. We're here to inspect, repair, and upgrade your vehicle after damage or an accident, so you can hit the road with peace of mind.
How Does Paintless Dent Repair Work?
If your vehicle has been damaged in an accident or as the result of inclement weather, it may have dents that affect both its appeal and the essential systems below. Our team is here to help, with our paintless dent removal process.
Paintless dent removal simply refers the repair process by which dents are gently pushed out and the panel is reshaped. It differs from other types of automotive services in that it doesn't require any parts to be filled in or repainted, which can help to maintain the vehicle's value over time.
Paintless dent repair is limited to certain places and parts, like some of the larger body panels. While this damage may look extreme, it's surprisingly easy to repair.
To start, our expert team will inspect the frame and alignment of the vehicle before making repairs. This is to ensure it's safe and reliable to drive, and that repairs are worth the time. Using tools specifically for the job, we'll gently massage the metal back into its original place, carefully removing the dent and making your vehicle look like new.
The process is relatively easy and low impact and means your car will be back on the road before you know it.
You'll find paintless dent repair, reliable parts, and a whole lot more right here at Sunroad Collision Center. Schedule repairs you can rely on in San Diego today.