Parts of a Car Body: Bumpers Versus Fenders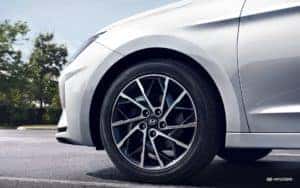 When you have an accident, you must contend with many concerns. Not only must you find a reputable body shop with fair prices, but you must describe the damage incurred to your vehicle. Understanding the parts of a car body helps drivers realize what needs to be fixed and mechanics to perform the proper repairs.
What is a Fender?
The fender is a metal frame that protects the body of your car. Installed on the wheel wells, it guards this region against dirt and debris kicked up by the tires in motion. It lessens damage to the vehicle, not its occupants. Aesthetic changes to fenders, like paint jobs or alternative materials, can add aesthetic appeal to a car if installed correctly.
What is a Bumper?
A plastic, metal, or rubber bumper primarily protects your vehicle's machinery, like its engine, exhaust, and cooling systems, from harm in an accident. They can appear on the front and rear of your car. Car manufacturers may include bumpers as one solid piece or in multiple, smaller pieces placed over the most vital areas.
Although bumpers reduce harm to passengers and pedestrians in crashes, they are not designed for that purpose. Because they absorb the force of collisions that would otherwise harm a car's machinery, they secondarily protect people from injuries.
Bumper Safety Considerations
Federal regulations specify that car manufacturers must place bumpers between 16 and 20 inches above the ground and protect from collisions above certain speed thresholds. Most makers voluntarily display this safety information for a new car on the Monroney sticker. California and Hawaii mandate the display of such information for consumers.
Speak to a Qualified Collision Center
Fender benders can happen to anyone. If your vehicle is damaged and you need an estimate, call or visit Sunroad Collision Center today!