Questions to Ask Your Kearny Mesa Collision Center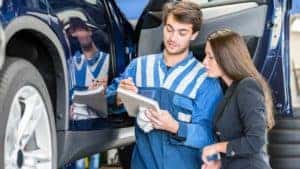 If you're on the search for the right Kearny Mesa collision center, there are a few questions you'll want to ask during the process. The right collision center can get your vehicle back on the road and driving safely after damage or an accident, so it's important to do your research and pick out the team that best fits your needs. That's why Sunroad Collision Center is here to share the essential questions you'll want to ask before and during repairs.
What Questions Should You Ask at Your Kearny Mesa Collision Center?
When the time comes for essential repairs and services, it's important to do your research and familiarize yourself with the process. Here are a few of the questions to ask so you know your vehicle is getting the best possible care.
What Repairs Do You Offer? Different collision centers provide different repairs and services, but you want to make sure your collision center offers up the repairs your vehicle needs. Check for essential services like dent repair, glass replacement, and frame straightening.
Do You Offer Free Estimates? Before you begin the repair process, you want to compare estimates. Ask about free estimates and make sure you get any estimates in writing, so you can reference them later, as needed.
What Kind of Parts Do You Use? The right parts can make all the difference when it comes to vehicle repairs after damage. OEM parts are the best option, as they're designed specifically for your car.
Do You Offer Guarantees? You'll have more peace of mind on the road if repairs and replacements come with guarantees and warranties. Always ask about car parts and repair coverage.
Will I Need Future Service? It's important to know if your repairs will need any future service or care, so you can factor that into the budget and plan for future needs.
Learn all about essential repair services and get the care your car deserves at Sunroad Collision Center.