Recognize Dings and Get Ding Repair in San Diego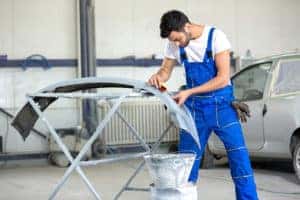 If you're on the search for ding repair in San Diego, there's no better place to visit than Sunroad Collision Center. Whatever repairs, replacements or upgrades your vehicle might need after damage or an accident, our team is trained, prepared, and ready to help.
Do I Need Ding Repair?
When you get dent and ding repair here at Sunroad Collision Center, you'll make your vehicle look like new again. It can help to maintain the vehicle's value and should be taken care of as soon as possible. Here are a few ways to determine if you need ding repair for your car:
You See Visible Damage: The most obvious way to know if your vehicle needs ding repair is if you see dings, scrapes, or other signs of damage. The sooner you bring your car in for repairs, the easier it will be to bring it back to its original shine, so schedule an appointment as soon as you notice the ding.
Your Vehicle Has Been in an Accident: Sometimes our vehicles suffer more damage than we realize. After an accident, we're often focused on big repairs and may miss some of the smaller ones. Simple ding repair can be essential for getting your vehicle back to its original condition after damage.
Your Vehicle Has Suffered Weather Damage: Weather damage is one of the main reasons, beyond collisions, why drivers will bring their vehicle down to Sunroad Collision Center. We fix dings like the kind caused by hail and flying debris, so your vehicle is safe and reliable for whatever the next trip might bring.
For support after damage or an accident, you can trust the team here at Sunroad Collision Center in San Diego. Schedule your next ding removal on our website today.