Schedule Body Work Services in San Diego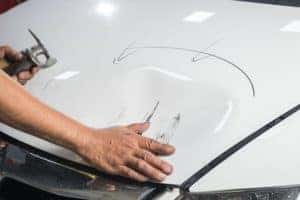 If you're on the search for body work services that will get your vehicle back out on the road and running right, turn to the team at Sunroad Collision Center. We're the San Diego collision center you can rely on for large and small repairs, and when it comes to body work services, no one has us beat.
Here's a look at some of the body work services we provide.
San Diego Body Work Services
Whether your vehicle has been damaged in an accident or as the result of inclement weather, it's essential to get repairs as soon as possible. Here at Sunroad Collision Center, we'll check to make sure your vehicle is safe and reliable to drive first, and then we'll move on to body work repairs and services.
Dent Repair: One of the most common services offered at our collision center is dent repair. We'll fix large and small dents, so you can feel confident and comfortable behind the wheel of your vehicle.
Fender Repairs: Fenders are one of the most common areas damaged during an accident. In fact, that's why small accidents are often referred to as, "fender benders". Our team will repair or replace your fenders as necessary.
Bumper Repairs: The bumpers on our cars are designed to absorb the impact of collisions, which means they often take the biggest damage during an accident. We can replace and repair bumpers so they're as good as new.
Paint Repair: Paint repair technically isn't a body work service, but it's often provided alongside dent and other repairs. If the paint has been damaged or scraped, we'll provide a new layer when we address your other repair needs.
Get the body work service you can rely on here at Sunroad Collision Center. Schedule an appointment in San Diego today.