Schedule Flat Tire Replacement in San Diego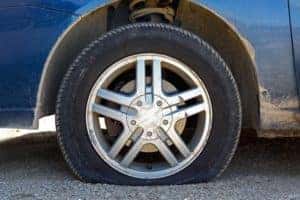 Are you on the hunt for a flat tire replacement in San Diego? Sunroad Collision Center is here to help. We're dedicated to getting vehicles back on the road after damage or an accident and to providing high-quality parts and service that will keep your vehicle in great shape for years to come.
Get the flat tire service and repairs you can rely on at our dealership today.
Signs Your Flat Tire Needs Replacement in San Diego
Driving with a flat tire can be unsafe and uncomfortable. It has the potential to damage other parts and systems, as well, which is why you'll want to be able to recognize the signs of a flat tire.
Here are just a few to look out for:
Tire Pressure Warning Light Comes On: This may be an indication simply that the pressure in your tires is low but keep an eye on the situation. If you're filling your tires often, there may be damage or a slow leak.
Your Vehicle Vibrates: If you notice the ride has become less comfortable or that your vehicle vibrates when out on the road, a flat tire might be the cause. Pullover as soon as possible if you notice your steering wheel shaking.
Your Mileage Drops: One of the reasons it's so important to keep your tires properly inflated is that it helps to maintain your vehicle's efficiency. A sudden drop in mileage may be the result of a damaged or flat tire.
There is Visible Damage: You want to inspect your tires regularly for signs of damage or wear. Look for bubbles or blisters, sharp objects that might have caused punctures, and low tire tread.
Here at Sunroad Collision Center, we'll repair or replace your flat tire and get you behind the wheel as soon as possible. Schedule tire service in San Diego today.