Schedule Headlight Restoration in San Diego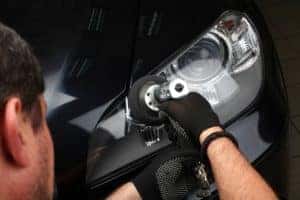 If you're on the search for a headlight restoration in San Diego, turn to the team here at Sunroad Collision Center. We're dedicated to putting your vehicle back on the road in safe and reliable condition, so you can focus on planning the next great ride. Here's a look at the headlight restoration process here at our collision center.
What is Headlight Restoration?
We rely on our headlights for visibility in the dark and in inclement weather, which makes them an essential car part for safe driving. Over time, however, headlights can become cloudy, scratched, or damaged, which reduces their effectiveness and our visibility when driving, and that's where the headlight restoration process comes in.
The headlight restoration process helps to return your headlights to their effectiveness from before UV and environmental damage. We will begin by thoroughly cleaning the headlight and removing buildup and dirt.
Then we'll sand down the headlight until the surface is completely smooth, using a finer grit as we go. We'll then use a wet sand process and a polish to get the surface of the headlight as clean and clear as possible, so you can continue to see clearly for many great rides to come.
Why Should I Get My Headlights Restored at Sunroad Collision Center?
There are many reasons to make Sunroad Collision Center your first stop for all repairs and upgrades, including headlight restoration.
We provide a wide range of services, make it easy to order parts, and work one-on-one with your insurance company to help get your vehicle back on the road as soon as possible. We also offer shuttle and drop-off service and rolling specials on parts and services.
Schedule headlight restoration and a whole lot more here at Sunroad Collision Center in San Diego.