Schedule Paintless Dent Repair in San Diego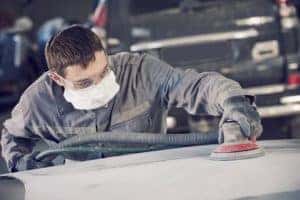 When it comes to paintless dent repair in San Diego, there's no team better equipped for the job than Sunroad Collision Center. We provide a wide range of services and repairs that will help to get your vehicle back on the road as soon as possible, running as safely and smoothly as the day you first took it home.
For repairs you can really trust, schedule an appointment with our collision center.
Why Do I Need Paintless Dent Repair?
Accidents happen. Whether your vehicle has been in a collision or suffered the effects of inclement weather, you may find you have small dents and body damage that need to be addressed. That's where paintless dent removal comes in, and the support of our Sunroad Collision Center team.
There are many reasons you may need the paintless dent repair process, though the most common include damage from hail, door dings, or other small impacts. Essentially, if your vehicle's paint is still intact, that means you're eligible for paintless dent removal.
The process is relatively inexpensive and much less invasive than other repair processes. It may even be used as a starting point for addressing some larger damage issues that cannot be fully fixed with paintless dent removal.
How Does Paintless Dent Repair Work?
To start, our team will assess the damage and determine if paintless dent removal is a good repair option. We will then take steps to access the damage from the inside, like removing taillights or body panels for better access to the opposite side of the dent.
Finally, we will apply a small amount of pressure using our specialized tools and gently work the metal back into its original position.
Learn more about how the paintless dent removal process can work for you right here at Sunroad Collision Center. Schedule your next repair in San Diego today!