Vehicle Body Components at Sunroad Collision Center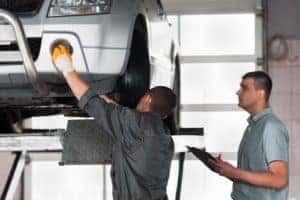 When it comes to vehicle body components and repairs, no one serves you better than Sunroad Collision Center. We're the San Diego collision center you can trust to get your vehicle back on the road, running as safely and smoothly as the day you first took it home. We also want to share the information you need on your vehicle body parts.
Vehicle Body Components at a Glance
The more you know about the parts that make up your vehicle, the easier it will be to get the care your car needs after a collision or damage from inclement weather. These are some of the most important vehicle body components to consider.
Hood: The hood is one of the largest single-piece parts on the car. It covers the engine and protects it from damage on every ride. Hoods are designed to crumple in a specific way in an accident, to help protect the driver and passengers.
Bumpers: Bumpers are also designed to absorb impact in the event of a crash. You'll find a bumper at the front and the rear of the vehicle. This is one of the most common pieces to repair or replace.
Fenders: Fenders are found over the wheels of the vehicle, and your car will have front and rear fenders. They are some of the most commonly damaged vehicle elements during accidents, hence the term, "fender bender". Like bumpers, fenders are also designed to absorb vehicle impact and protect passengers.
Trunk Lid: Sedans, SUVs, and sports cars will have different types of trunk lids, but most vehicles will have some type of cover for the trunk at the back of the vehicle. In SUVs and vans, this piece will include glass, which may need to be replaced after a collision as well.
When your vehicle needs new parts, repairs, or upgrades, trust the team at Sunroad Collision Center. Visit us in San Diego for the care you can rely on.