Visit Sunroad Collision Center for Car Window Replacements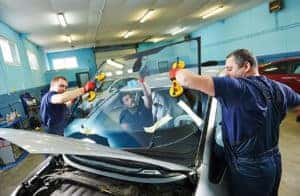 If you're looking for car window replacements in San Diego, then you'll want to look no further than Sunroad Collision Center. Whether you need to replace your vehicle's glass following an accident or it's simply time for an improved driving experience, we can help.
Our expert team is dedicated to ensuring you have the safest, most reliable ride every time—and taking care of your windows is essential.
When Should You Replace Your Car Windows?
Most of the time, it will be obvious that your car windows need to be replaced. If you have had an accident or your vehicle has sustained weather damage, cracks and fissures will be obvious signs it's time to get some work done.
It's essential to note, however, that glass isn't there just to protect you from weather and wind. It's also a safety device designed to keep you from debris or accidents. Even if the damage is small, you'll still want to bring your vehicle in for inspection.
Some window cracks and damage can be repaired, but you don't want to drive with a damaged window or windshield for long. Another object might cause it to shatter, even if it looks sturdy.
Why Visit Sunroad Collision Center for Window Repairs and Replacements?
You don't need to worry about getting the new parts you need in order to drive home safely, because Sunroad Collision Center is here to help. Our expert team has the parts and equipment to repair and replace broken windows and windshields, no matter your make and model.
For vehicle inspections, upgrades, and repairs, make Sunroad Collision Center the auto body shop in San Diego you turn to first. Schedule a window replacement with our team today.