Visit Sunroad Collision Center for Free Car Repair Estimates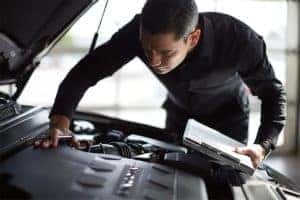 Free car repair estimates aren't the only reason to make Sunroad Collision Center the collision center you turn to when you need repairs or upgrades, but they can help to make the process much easier. We're dedicated to providing the best car repairs and upgrades for San Diego drivers, which is why we won't charge for estimates, and why we're sharing all you need to know about scheduling repairs after damage.
Free Car Repair Estimates at a Glance
If your vehicle has been damaged in an accident or as the result of inclement weather, it can be difficult to know what to do next. Sunroad Collision Center is here to help.
You can begin the free estimate process right from the comfort of home today. Simply navigate to the free estimate page of our website, under the service tab. You'll be prompted to enter your contact information and then information on the type of vehicle you have.
Next, fill out the section on the type of service you need, whether you have an estimate from your insurance company and any questions that you might have about the repair process. Then hit submit and wait for our expert team to contact you about your vehicle repair needs.
Why Get Repairs at Sunroad Collision Center?
In addition to free estimates for repairs, Sunroad Collision Center also offers the tools and resources you need to get your vehicle back on the road with ease.
We provide a wide menu of services and repairs, work closely with your insurance company to ensure the work is as affordable as possible, and provide complimentary shuttle and drop-off service because getting your vehicle repaired shouldn't have to be a hassle.
Don't forget to check out our specials and deals on parts and services.
It's all available right here at Sunroad Collision Center. Submit your free repair estimate and schedule repairs you can rely on in San Diego today.