What is a Car Warranty?
When making a large purchase, it is important to know how you would be covered in case something goes wrong. This is why it's a very good idea to seek a car warranty near me when buying a vehicle. Our auto collision center created this guide to help you understand what different car warranties do – or don't – cover:
The Ins and Outs of a Warranty
Every new car comes with some sort of warranty. Their durations can range pretty widely, generally from three years or 36,000 miles to 10 years or 100,000 miles. They also come in different types.
A bumper-to-bumper warranty covers things like the air conditioning and electronics. A powertrain warranty will cover big systems like the engine and transmission. When these warranties end – or are about to end – you may have the option to buy extended coverage.
Warranties for Pre-Owned Cars
Pre-owned cars are covered by warranties too. One of the big advantages of buying a certified pre-owned model is the fact that they will be covered by any new-car warranty if it is still applicable. On top of that, you will get extra coverage, which varies based on the brand of car you're buying.
What Doesn't a Warranty Cover?
If something goes wrong with a major part or system, chances are good that the warranty will cover it. It doesn't apply, however, to routine service like oil changes or tire rotations or when things like brake pads or tires wear out.
In addition, if the problem is found to be related to a lack of maintenance, you could be out of luck.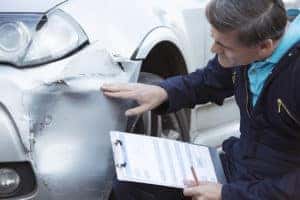 Is a Warranty the Same as Insurance?
While a warranty does give you some peace of mind, it shouldn't be confused for insurance. If, for example, you were involved in an accident and you needed dent removal or a windshield repair, a warranty wouldn't be able to help you.
If you have collision insurance, however, some or all of the repairs may be covered.
If your car has been in an accident and needs some body work, get in touch with Sunroad Collision Center near Chula Vista. In addition to quality repairs, you will be happy to know that our auto body paint repair center offers warranties on our paint and body work.