What is the Car Repair Process at Sunroad Collision Center?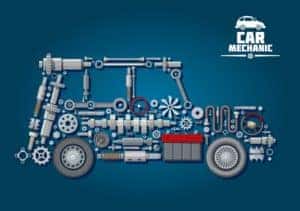 If you've recently been in a collision and need body repair, we invite you to bring your car down to Sunroad Collision Center for a free car repair estimate. But what happens next? Let's review our detailed car repair process.
Car Repair Process
We believe in transparency throughout the car repair process, so you know what to expect from the beginning. Our repair process is as follows:
Estimate: We provide an initial vehicle inspection to estimate repair costs.
Insurance: Your insurance company must authorize all repairs.
Disassembly: Note that we may find additional damages during disassembly, so your car repair estimate may change.
Structural Repair: We repair any structural damage.
Color-Matching: Our highly skilled paint professionals will color-match your vehicle.
Body Repair: We repair any non-structural damage.
Paint: We restore your vehicle's paint job to its former glory.
Reassembly: We will reassemble your vehicle and clean it up.
Delivery: We will give you a summary of vehicle repairs, perform a visual inspection, and then you are free to drive off in your newly repaired vehicle!
Why Choose Sunroad Collision Repair?
We know that getting your car repaired can be stressful. Our job is to make the repair process as smooth as possible. While your vehicle is being repaired, we can coordinate a rental car for you at any agency you would like.
Additionally, since our factory-trained technicians repair vehicles to meet or exceed manufacturer standards, we offer a lifetime warranty on all repairs. We also specialize in insurance claims handling, working with your insurance company directly to manage claims efficiently.
At Sunroad Collision Center, we offer fast and high-quality collision repair. Contact us to schedule your repair appointment today!