Get a Custom Paint Job in San Diego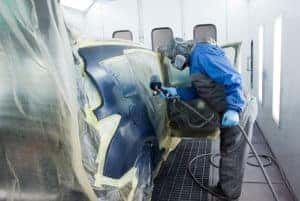 If you're on the search for a paint job in San Diego, make Sunroad Collision Center your first stop. We're dedicated to putting you and your vehicle back on the road after damage or an accident with peace of mind, and we provide the services to make your vehicle feel personal and reliable. Don't forget to check out our rolling specials on services like custom paintwork.
What to Know About Custom Paint Jobs in San Diego
When it comes to custom paint jobs you'll want to consider a few important factors.
Prices Can Vary: There are many ways to approach a custom paint job, and every vehicle will have different needs. Set a budget and explore your paint options with our experts first.
Painting Takes Time: To do the job right, custom paintwork can take time. If you want a custom paint job, keep in mind that your car will likely be out of commission for a few days.
It Can Affect the Value of Your Vehicle: In most circumstances, fresh paint will make your car more valuable, but if you're adding unique or bold colors, it's important to consider who might be interested in buying it down the line.
Why Get Custom Paint Work Done at Sunroad Collision Center?
There are many reasons to make Sunroad Collision Center the San Diego collision center you turn to for your next paint job. To start, we have advanced equipment and resources, including new state-of-the-art spray booths for vehicle painting.
We also provide free estimates, work closely with insurance companies to fit your budgetary needs, and provide complimentary pick-up and drop-off shuttle service, so you can get the vehicle service you need with peace of mind. Don't forget to check out our rotating specials too!
It's all available right here at Sunroad Collision Center. Schedule your next custom paint job in San Diego today.