Get Sun Damage Paint Repair in San Diego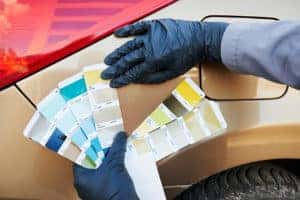 If you're wondering how to repair sun-damaged car paint, then you'll want to look no further than Sunroad Collision Center in San Diego. We make it easy to get the service, parts, and repairs you need, no matter what, so you can go back to driving your vehicle with peace of mind.
What Can I Do About Sun Damage?
Paint damage from the sun can be hard to repair, but we can handle it. Before you bring your vehicle down to our service center, there are a few things you can do to start the process.
To start, you'll want to give your vehicle a really good clean. It's important to get a sense of what is actually damage and what can be washed away with soap, water, and elbow grease.
If you notice droppings or grime on your vehicle, try to clean it right away. The longer it sits, the more likely it is to stain and corrode.
If you've cleaned your vehicle as well as you can and sun damage or bleaching still remains, you can bring it into our collision center, where we'll try taking a compound and buffer to the surface, essentially spreading the good paint to the more damaged areas.
Why Visit Sunroad Collision Center for Paint Damage?
The service center at Sunroad Collision Center is dedicated to keeping your vehicle running and looking good for years to come. Our highly-trained technicians have access to the most advanced in auto repair technology, we offer free estimates and will work with your insurance company, and we also provide free shuttle and local drop-off, so getting the repairs your vehicle needs is smooth and easy.
Make Sunroad Collision Center the autobody shop in San Diego you turn to for your sun damaged paint repair and other vehicle servicing needs. Schedule your next appointment today.