How to Get a Free Body Shop Estimate in San Diego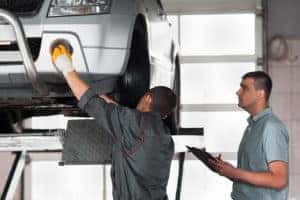 There are many reasons you might need to bring your vehicle down to Sunroad Collision Center in San Diego, and a free body shop estimate from our expert team can help to make the process as smooth and easy as possible. We're dedicated to getting your vehicle running as well as the day you first took it home, and free estimates are just the first step.
How to Get a Free Body Shop Estimate
For a free body shop estimate, just visit our collision center website. Then, input your contact details, your vehicle info, and what kind of service you need.
We'll reach out to you through email or telephone, and get started on your estimate.
What Kind of Repairs Does Sunroad Collision Center Offer?
Here at Sunroad Collision Center, we make it easy to get the repairs, replacements, and upgrades your vehicle deserves. We've got you covered when it comes to common body shop services and your individual vehicle needs. Here are just a few of the services we offer at our shop:
Paint Repair: Paint repair can help to make your vehicle look new again and give you confidence on the road.
Windshield Replacement: When you need to get your glass replaced after damage or an accident, we can help.
Tire Service and Wheel Repair: Your wheels and tires can take a lot of hits. We can bring them back up to scratch and ensure they're safe on every ride.
Interior Repairs: You deserve a vehicle that's comfortable and well-maintained inside and out and we can help.
It's all available right here at Sunroad Collision Center in San Diego. Get a free estimate from our body shop today.